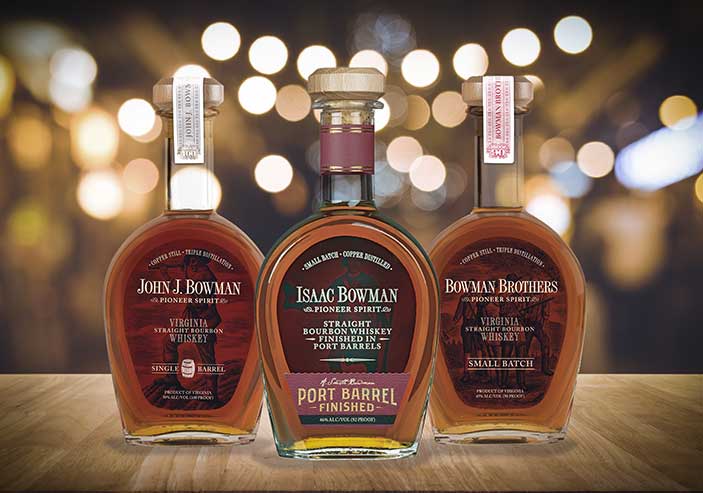 A. Smith Bowman Distillery Bourbons Win Gold at American Whiskey Masters Competition
FREDERICKSBURG, VA (Sept. 12, 2019) – Three bourbons from A. Smith Bowman Distillery, Bowman Brothers Small Batch, Isaac Bowman Port Finish, and John J. Bowman Single Barrel won gold medals at the 2019 American Whiskey Masters competition.
All awards are given at the discretion of the judges through a blind tasting. The panel of judges consisted of leading spirits specialists. The 2019 American Whiskey Masters was a competitive competition with more than 46 entries from 12 different companies.
"We are honored to receive gold medals for each of our core bourbons," Master Distiller Brian Prewitt said. "Our team at A. Smith Bowman is dedicated to producing quality spirits, and these awards are a testament to that hard work."
To find more information about A. Smith Bowman brands, please visit https://asmithbowman.com/
About A. Smith Bowman
A. Smith Bowman's distilling roots date back to the years before Prohibition when the Bowman family had a granary and dairy farm in Sunset Hills, Virginia. They used excess grain from the family estate to distill spirits. In 1934, after the Repeal of Prohibition, Abram Smith Bowman and his sons continued the family tradition and built a more modern distillery in Fairfax County, Virginia called Sunset Hills Farm. The Distillery was moved in 1988 and is now nestled in Spotsylvania County near the city of Fredericksburg, 60 miles away from the original location.
As a small and privately owned company, A. Smith Bowman Distillery continues the time-honored traditions on which it was founded. Considered a micro-distillery by today's standards, A. Smith Bowman produces an assortment of hand-crafted spirits distilled from only the finest natural ingredients and using the latest technology. This micro-distillery focuses on the production of premium spirits honoring the legacy of Virginia's first settlers. Its various brands have won more than 100 awards in the past five years, including John J. Bowman Single Barrel, which received a gold medal at the 2019 San Francisco World Spirits Competition. For more information on A. Smith Bowman, please visit www.asmithbowman.com.